Harmony of comfort and individual design
The new Aiden by Best Western @ Stadtgut Hotel Steyr has 90 air-conditioned rooms. The stylish rooms offer enough space for 2 people on approx. 20 m2. Comfortable box spring beds promise restful nights. When the sun shines through the floor-to-ceiling windows, a good mood is guaranteed in the morning. If you need a little pick-me-up - no problem, there is an espresso machine in all our rooms for our guests.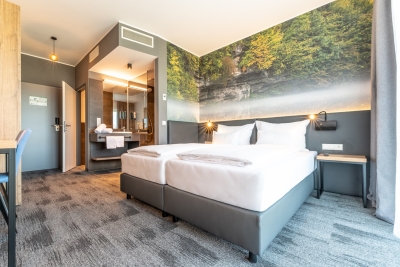 Our house offers 2 different room categories, which differ mainly in the design of the bathrooms. For those who like a spacious room, the rooms with open bathrooms are ideal. The airy and open design guarantees a spacious feeling. The toilet is located in an extra room.
The second variant of our double rooms is equipped with a closed bathroom. The spacious bathroom has a washstand with plenty of storage space, walk-in shower and WC.
We offer another double room category for our guests with limited mobility. These rooms are slightly larger, so that they are also ideally suited for use with a wheelchair. The bathrooms with open shower, height-adjustable washbasin and toilet are completely barrier-free and specially designed for use with wheelchairs.
The rooms at the Aiden by Best Western @ Stadtgut Hotel Steyr are specially designed to meet the needs of urban and lifestyle travellers. Joyful and strong colours, with reference to Steyr, the rooms reflect a lifestyle trend and set new standards in Steyr. For business travellers, the rooms offer a large work surface with excellent lighting and permanent power supply. The safe easily accommodates the laptop.
Amenities: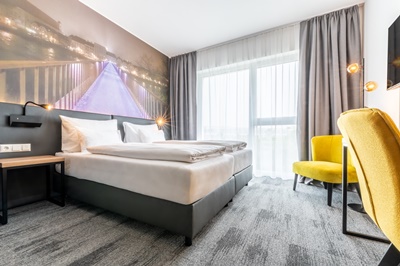 Air conditioning
WLAN access
Smart TV with Bluetooth connection
Comfortable box spring beds
Open or closed bathrooms with shower
Separate WC (in the double rooms with open bath)
Hairdryer, vanity mirror
High-quality care products
Safe
Desk with optimal lighting
Espresso machine